NOTE: Make changes to the video playlist before starting the data stream.
Select Simple Video Player if the standard player does not work properly.

Click the Video panel icon to open the Video panel. When you make any changes in this panel, DO NOT CLICK APPLY. This will reset the player to the default list of videos.

Make changes to the playlist by clicking "Edit playlist". Select a video by ticking the box at the left. Use the up or down arrows to change the order. Click the X button to remove a video from the list. Use the + button to add a video. You can add any video on your computer.
To adjust volume of a music video in the standard video player, use the Video volume slider in the Video Panel.
For feedback control of a music video's volume, tick the Volume box. Use the "Min volume" slider to change the amount of change heard (left is more change; right is less change).
To turn off MIDI sounds of the design while playing a music video, use the design's speaker icon.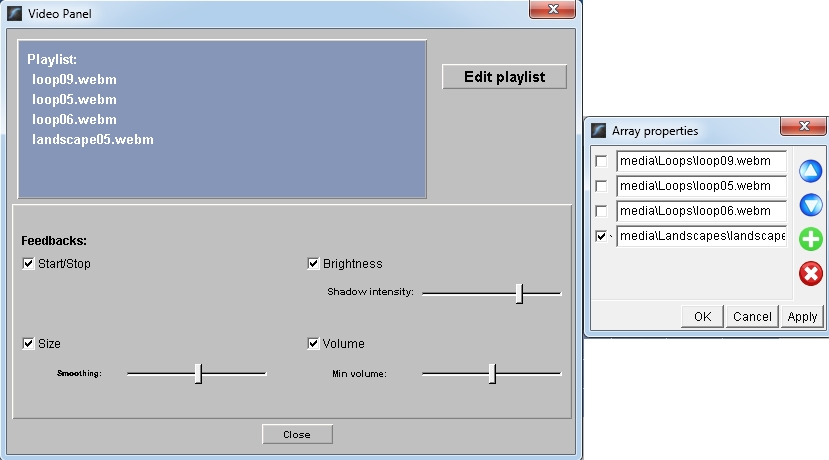 If you have issues playing videos, we recommend downloading and installing K-Lite Codec Pack. Basic is fine. "Server 1" is usually enough. Use default settings when installing. This should allow you to play any video format in Brain-Trainer software.
Videos of file type WEBM play best. If you want to play your own videos as feedback, you can convert them to WEBM format. Convert the video(s) and save to your computer in C:\Brain-Trainer for BioEra\Media. Then they can be loaded into the video playlist.
Here is a free online video converter: https://www.video2edit.com/convert-to-webm.
Here is a free downloadable converter that converts large files: https://www.any-video-converter.com/products/for_video_free/.