Description
Amplifier for 2-channel EEG and peripheral biofeedback
MONITOR SIX CHANNELS – Two inputs channels are microvolt level with select-able gain and bandwidth for EMG or EEG or ECG. Two channels are temperature, respiration, or other high level sensors. Two inputs are for skin resistance & PPG to measure HR and BVP.
NO BATTERIES – Power is supplied from USB by an isolation module. This reduces down-time and service problems.
RELIABLE CABLES – Medical standard 1.5mm pin to snap leads are used for electrode connections and are available from many suppliers.
NEW TECHNOLOGY – Gives you cleaner signals, more reliability, and lower cost in a compact, rugged enclosure.
COMPACT DESIGN – A general purpose physiological signal monitor in a case the size of a pack of playing cards. Add a small computer and you have a system in your pocket.
CONNECTION TEST – A built-in test monitors electrode connections.
ADAPTABLE – A digital input to connect optional accelerometer or compass modules for virtual reality applications.
You likely need…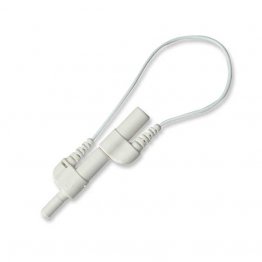 2 channel jumper connector for linking references