Current version: 2.7
Introduction
Brain-Trainer 2 (BT2) is designed to increase flexibility in a wide range of habitual brain energy habits using a variety of types of feedback to guide lasting real world changes in cognition, mood, control, physical functions and performance.
BT2 software receives data from an amplifier and processes it to present visual displays and auditory feedback. To run a session, apply sensors to the trainee, connect and power on your device, open BT2 and select a protocol/design and press "Play."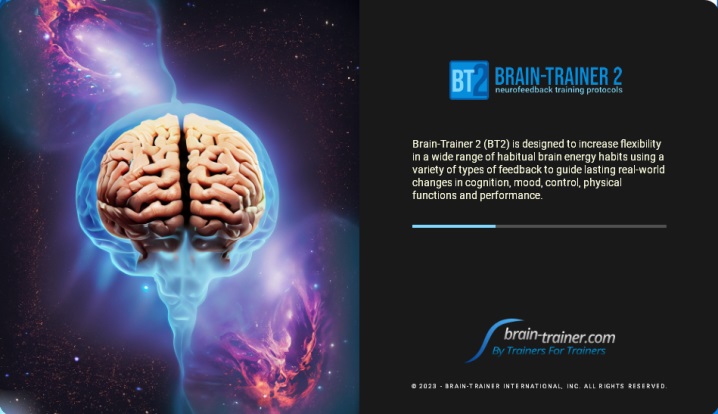 Disclaimer: The Brain-Trainer 2 (BT2) is designed to train habitual energy patterns related to desired changes in brain function and performance. IT IS NOT INTENDED AS A TOOL FOR DIAGNOSIS OR TREATMENT. If you have any problem with the BT2 software, please report it by sending an e-mail to bt2@brain-trainer.com.
Software Tour
Below is a tour of the BT2 beta version. There have been some updates since this was made, but this will show the basic features to get the trainer started.
Setting Up BT2
Download
After your purchase you should receive an order email with download and license information. Save this email for future reference. It contains your license key.
Save the BT2 installer to your computer. The likely location by default is your computer's Downloads folder. You can then open the Downloads folder to find the file you have downloaded.
Once a file is saved to your computer, and extracted if needed, it is ready to be run.
Installation & Activation
Run the setup installer and activate the program with your BT2 license key.
User Interface
Home screen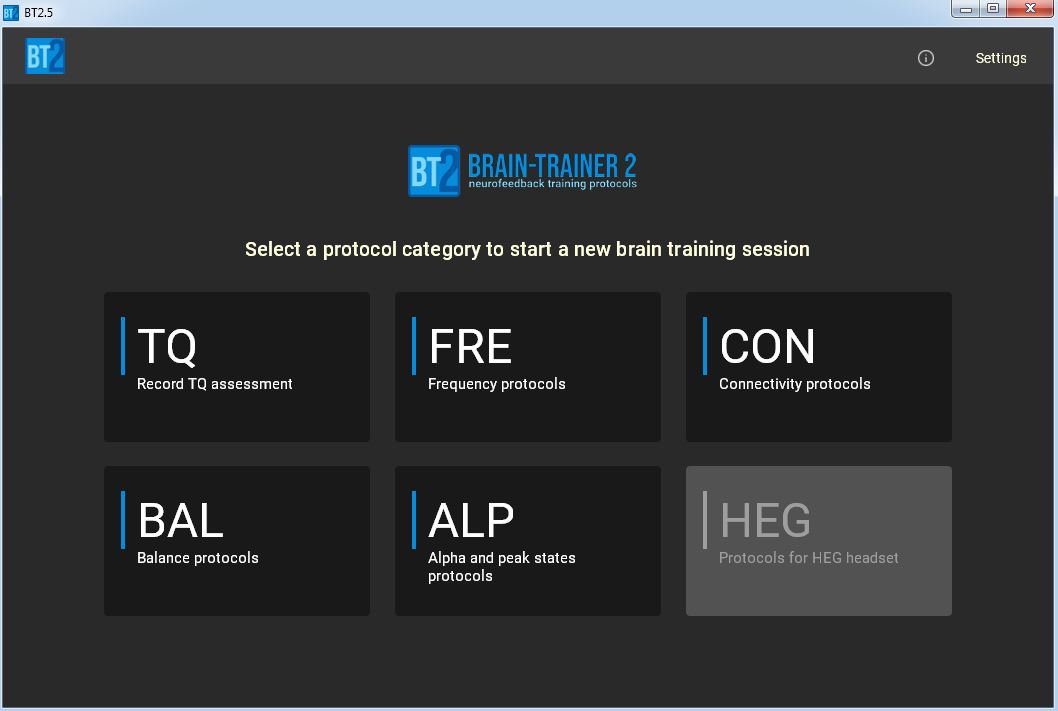 When you open the program, in the title bar at the top you see the name of the program and the version (e.g. BT2.6). Below this you will find Settings and

Help/information about the program and settings. The protocol category menu is displayed and you select one by clicking on it to begin training.
Settings
Select settings before you begin. Options: language default file saving location, record all sessions.
Opening Designs
Once you have selected a protocol category, the options for designs are displayed in the "Start new session" window. Select one of these to open a design. A listing of designs is below. A common first protocol is "Amplitude."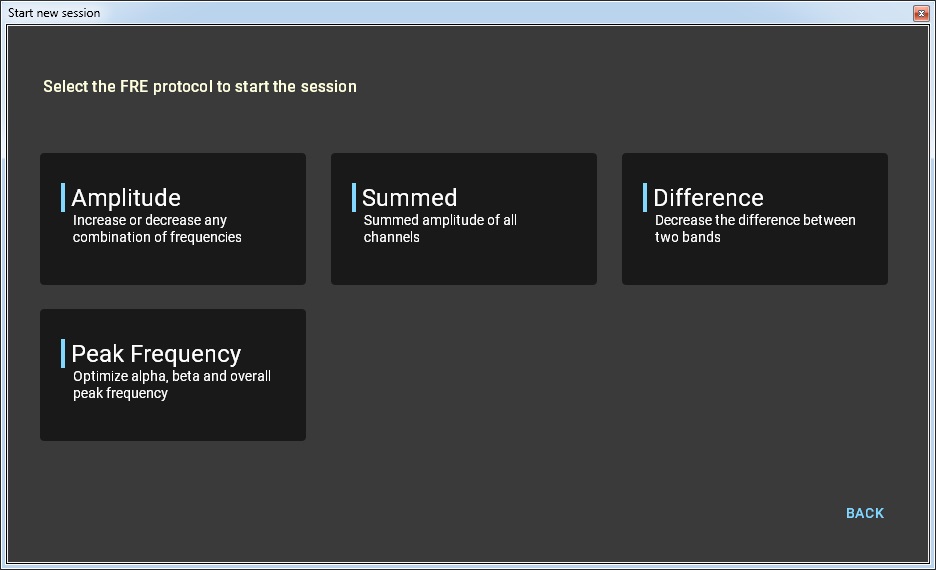 Controls
Once a design is open, the name of the design is at the top title bar and the control panel is visible below that.

Session settings

Device configuration – Device connection, Electro-Cap settings (if using), load file for playback.
Blue indicates the device is connected; red indicates it is not connected.

Source  settings – Select your source (e.g. simulator, playback, amplifier)
Currently the only amplifiers supported are Neurobit Optima and Pocket Neurobics Wiz devices. The program cannot connect to bluetooth devices.

Signal tester – Open display window to show oscilloscope and spectral analyzers.
This window can be resized and may be left open during the session if desired.

Channel selector – Select number of channels to be trained.
Select 1, 2 or 4 channels

Feedback selector – Select the kind of feedback to use for the session.
MIDI will always be on. Select additionally from music, shadow, games and video (to come)

Feedback mixer panel – Set configuration for feedback (e.g. game, shadow brightness)
Some games have a volume control that is accessed by the game settings within the game.

Design audio mute – Turn off the session music.
This turns off all the design music but not game feedback.

Sound settings – Configure the sound feedback.
Select songs, change MIDI and click rules. Click sound can be turned off in the sound settings menu.
Session controls
Notice that a button in the ready (selectable) state is dark in color and a button that is in use (not selectable) is lighter grey).

  Play (ready) – Press to start the session / data flow


Play (on) – The session is going.

Pause (ready) – Press to pause the session but not stop the condition completely.


Pause (on) – Data flow is off.

Stop (ready) – Press to stop. Data flow is going.


Stop (on) – Data flow is off.

Record (ready) – Press to save the session recording.  This automatically comes on for assessments.


Record (settings) – Select or add client and filename complement (if desired).


Record (on) – Session is being recorded.

Session time – Duration of the session is displayed in the timer window.
Press to set a stop or pause time.

Design settings

Custom presets – Some designs have special settings preset.
Select this first to auto-set frequency bands, channels, etc.

Design settings – Select options for the particular design.
In this example amplitude is selected. In MBC select up or down.

Chime threshold – This option will make the "chime" feedback sound threshold visible to the trainer.
This is available on the FRE: Amplitude design.

Enlarge oscilloscope – Select this to expand the oscilloscope.
This is useful for getting a detailed look at the raw EEG.

Threshold quick set – Selecting this will set all thresholds to channel 1.
This saves the trainer from setting each threshold separately.
Other controls

Design menu – Open a different design.
This takes you back to the home page protocol category menu.

Load design (in future) – Load a saved protocol. If you have saved custom settings you may browse to the folder where you have saved the protocol and select it. This saves the trainer from having to reset the design each time the client trainers.

Help / Information (in future) – Find out about the program.
Here is a link to the online BT2 instruction manual.

Protocol saver (in future) – Save current protocol settings. Custom settings may be saved into each client's session folder for convenience. These can be saved generally in "sessions" or directly into a client's session folder. Once all the settings are as you want them for a given client, click the Protocol save button, browse to the client's folder and name the protocol. This can be done for all sessions and blocks.

Settings (in future) – Open software settings.
You may adjust these while a design is open.
Using your BT2 Software
As a matter of practice, always connect the amplifier and turn it on first. Then open the BT2 program. Appropriate use is to plug in, power on your amplifier; open the software for your session; close BT2 after use. If the amplifier is unplugged or turns off between sessions, close BT2, connect and turn on your amplifier and reopen BT2 for the next use.When you open the BT2 software to train, you will see several protocol categories from which to choose. Your Whole-Brain training plan will specify which category using a three-letter indicator before the protocol (e.g. FRE: Amplitude).
Connecting your device
Before beginning a session, select the source (e.g. Optima, Simulator). Simulator is selected by default and is good for testing to see what a design will look and sound like in a session.

Select your amplifier by clicking the "Source" button.
Then choose your amplifier from the dropdown menu.
Starting the session
Start the session by pressing "Play." Stop by pressing "Stop."
Optima quirk
If, during use (usually after stopping the design), the link light on the Optima turns orange, re-connect the Optima and re-open the design.
Turn Optima off
Unplug it
Plug the Optima in again
Turn it on
Return to the designs menu and open the design again.
Choosing Protocols
If you have used Brain-Trainer for BioEra or Brain-Trainer designs for BioExplorer, you may find the Protocol Conversion Table useful to show which protocols in BT2 will do the same training.

See a description of available protocols:
TQ Assessment Gathering
The TQ8 asssessment design will automatically move from step to step (EC > EO, etc.) with a prompt from a dialogue window that the user will click to allow the assessment to continue. This simplifies the process. However, any step may be selected and recorded or re-recorded as the trainer wishes by clicking on it.
General information about recording TQ Assessment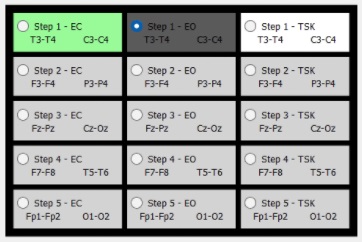 Color indicators
Each step has color indicators for the data gathering.
Grey = no recording at that step
Dark grey = the active step
Green = there is a recording that contains more than 30 seconds of valid data
White = there is a recording but it is not complete (<60 seconds)
Red = there is a recording that is completed but it contains too much artifact
Gathering data
Connect your amplifer and power it on. Then open the BT2 software. Select the TQ protocol category and then the TQ protocol (design).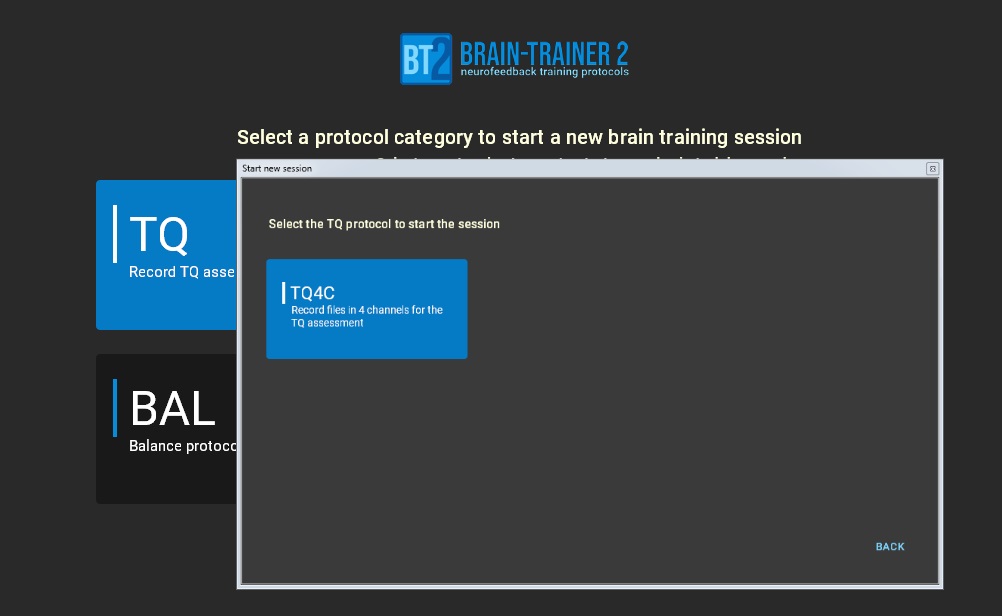 You will be prompted to select a client or add a new one. This will be where the recordings are saved.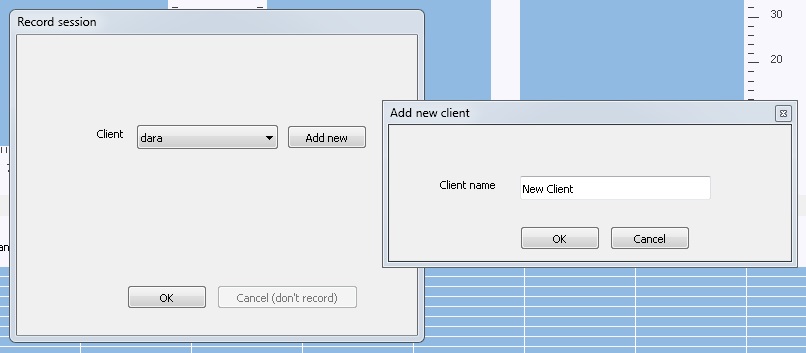 Select your amplifier by clicking the "Source" button and then
choosing your amplifier from the dropdown menu.

Once the client is prepared with electrodes, check the signal quality.
Correct any issues.
Recording data
When the client has been instructed on the procedure and is ready with eyes close, press "Play" and the program will count down 5 seconds and then start. It will gather data until enough are collected. The program will then pause after a period (~ one minute) and a dialogue window will open. Here you can decide to move with the next recording,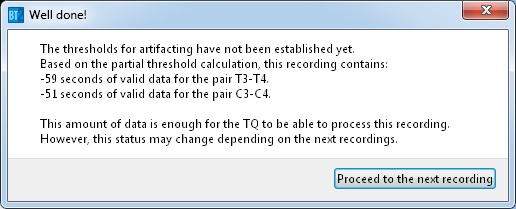 or continue gathering data if more are needed for processing or discard the data and try again.

Threshold calculations – Thresholds are calculated using steps 1 and 2 with eyes closed and eyes open. It is possible that an acceptable recording (green) may be determined to be unacceptable (red) and need to be re-recorded at the end of step 2 EO once the threshold calculation is completed. Prepare the client for the next eyes open step and press "Play" again. The program will pause again, prompting you to continue. Continue in this way, moving the active electrodes to the new sites on the scalp as appropriate for each of the 5 steps of data gathering. You will then be notified that you have reached the last recording.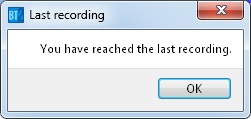 Changing to a new client
To start with a new client after recording for another client, click the "Record" button. You may need to click it twice.

Repeating with the same client
To start again with the same client after recording for him/her, click "Delete selected recording."


This manual is under construction. If you have any issues, send an e-mail to BT2
Copyright © 2023, Brain-Trainer International, Inc.