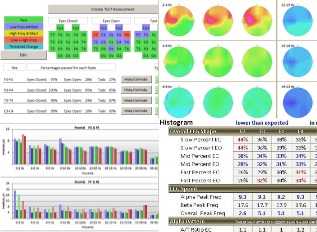 TQ7 Trainer's Q updates
Changelog for the latest TQ7 updates. A history will be kept for future reference.
Download your updates from your Brain-Trainer shop account or ShareFile.
January 20, 2023
Installer fix: Added link to Brain-Trainer for BioEra instructions
August 30, 2022
Installer fix: Was making shortcut to BioExplorer Sessions folder
July 30, 2022 TQ7.5.9.4
Updated protocols for Brain-Trainer for BioEra
May 2, 2020 TQ7.5.9.3
One installer is now used for all software types.
Added Protocol options for Brain-Trainer for BioEra software.
Added French language to the installer and some supporting files.
August 15, 2019
FIX: Some (Asian) computers were getting a zlib .dll error

March 24, 2019 DoneEx protected version only
FIX: Create PDF function did not complete properly
March 5, 2019 TQ7.5.9.2
Added option for brief Executive Summary Report
FIX: Corrected translation problem on buttons
Improved Portuguese translation of Summary Report
January 8, 2019
FIX: Some buttons had incorrect language displayed.
Updated French logo

December 3, 2018
FIX: Protocol for tics was not being suggested in Options page when indicated on Client Report
FIX: Portuguese spelling error corrected
FIX: Tracking page had runtime error
French Brain-Trainer logo added
October 12, 2018
French language added
August 4, 2018
Fix: Left-sided disconnect was identified as right-sided
July 23, 2018 TQ7.5.8
Changed references to some midline protocol suggestions

June 15, 2018
Options page column headers were missing "Active" column.
June 14, 2018 Installer only
Decimal was missing in desktop icon
May 11, 2018 TQ7.5.7
Optimized suggestions for rear reversals
Improved Brazilian translation in summary report
Added instruction for DMN ground with cap
March 26, 2018 TQ7.5.5.6
Optimized calculations for detecting scoop pattern
March 5, 2018 TQ7.5.5.1
Changed rank in protocol selection for some cases.
February 6, 2018 TQ7.5.5
FIX: Error in protocol description
Correction in some Portuguese language display
December 19, 2017
TQ7 Complete Guide.pdf: Corrected errors in file location for assessment processing.
December 14, 2017
There are not changes in the TQ7 files, only the instruction manuals and file structure.
*With this update you will find designs, reports, sessions in the same place – Documents\BioExplorer.
*Instructional documents, drivers, etc. will be in the same place – Documents\Brain-Trainer\Help.
*Brain-Trainer tools like TQ7.5, graphing files, Subj Assess will be in Documents\Brain-Trainer. This is a change from before as they were in different places. Now they can all be found in a single location.
*In order that we may pre-load flash and audio files into designs for your convenience, flash and audio files will be in C:\Program Files (x86)\BioExplorer\Flash and C:\Program Files (x86)\BioExplorer\Media. Most users will not notice this. They were previously in C:\Program Files (x86)\BioExplorer, not inside folders.
Documents\Brain-Trainer (with shortcut)
*** Subj_Assess (assessment tool)
*** TQ7.5 (with shortcut)
*** Documents\Brain-Trainer\Help
++++++ User Guides
++++++ Drivers
++++++ READ ME files
Documents\BioExplorer
*** Documents\BioExplorer\Designs
*** Documents\BioExplorer\Reports
*** Documents\BioExplorer\Sessions (with shortcut)
++++++ Client Folders
C:\Program Files (x86)\BioExplorer
*** C:\Program Files (x86)\BioExplorer\Flash
*** C:\Program Files (x86)\BioExplorer\Media
++++++ Alpha/Theta music
++++++ BioExplorer sounds
November 1, 2017 (released December 1)
FIX: Improvements to several protocol suggestions, including low rewards in some protocols
FIX: Infiniti users- Data did not import correctly when comma was used as decimal separator.
October 9, 2017
FIX: Client date of birth did not load if Client Report was manually selected
FIX: FRE2C special protocol's references changed to independent
The latest Brain-Trainer TQ7 installer will place user folders in Documents (not C as before). We recommend you reinstall BioExplorer's new version, installing to the default location and run the Brain-Trainer installers.
October 4, 2017
NOTICE: BioExplorer version 1.7.0.661 is now available for download:
http://www.cyberevolution.com/Download.htm
Bug Fix: Instrument captions sometimes did not display.
Bug Fix: Issues regarding load time and memory usage with large designs.
Change: BioExplorer's document folders (Designs, Sessions, etc.) now default to the user's Documents folder in Windows.
Use the default installation.
The latest Brain-Trainer TQ7 installer will place user folders in Documents (not C as before). We recommend you reinstall BioExplorer's new version, installing to the default location and run the Brain-Trainer installers.
Trainer's Q Version TQ7.5.2
FIX: Change in Reversals page to show 15-38 Hz for Beta
FIX: Options page was suggesting FRE4C Squish with a reward.
FIX: German translation was missing in a section of the Summary Report.
August 12, 2017
Installer places shortcut on desktop for TQ7.5 for easy access.
May 1, 2017
FIX: Summary Report had error in handedness reporting.
Improved protocol selection for inhibiting beta
April 26 – TQ7.5.1
Optimized reward frequency for rear sites.
FIX: Common reference was suggested for temporals
FIX: T3 T4 training can sometimes end up as a 4CH protocol
FIX: Special characters were not displayed correctly in the Summary report.
Improved algorithm for recognizing fast/mid/slow dominant brains.
Suggested protocols based on subjective Client Report have an asterisk* in the Options page.
Version of application is shown in Progress bar window when producing assessment.
Summary Report shows in red only client findings, not general text.
Translations improved
Improved Options saving
PORTUGUES
Frequência de recompensa otimizada para pontos na parte posterior.
CORRIGIDO: Referência de ponto único sugerido incorretamente para os temporais.
CORRIGIDO: O treinamento T3 T4 às vezes pode terminar como um protocolo de 4 canais
CORREÇÃO: caracteres especiais não foram apresentados corretamente no relatório de resumo.
Algoritmo melhorado para reconhecer cérebros dominantes rápidos / médios / lentos
Os protocolos sugeridos com base no Relatório Cliente subjetivo têm um asterisco * na página Opções.
A versão do aplicativo é mostrada na janela Barra de progresso ao produzir a avaliação.
Resumo do relatório mostra em vermelho apenas as conclusões do cliente, e não o texto geral.
Traduções melhoradas
Opções de salvamento melhorada
November 29, 2016
FIX: There was an error when saving a file with only CRep loaded.
PORTUGUES
Ocorreu um erro ao processar a avaliação apenas com o arquivo CRep
November 27, 2016
FIX: Client Report only option buttons were not working properly.
MAJOR UPDATE:  November 21, 2016 TQ7.5
NEW: Online Client Report with rating scale
NEW: Issues tracking
NEW: Before and After comparison of issues
FIX: Custom training plan edits were lost upon language change.
FIX: Pdf creation error
Better evaluation for spike detection and description in Summary Report
BAL4C RH and DMN4C 3 Band cap sites are the same as electrode sites.
Improved protocol suggestions for midline training
November 1, 2016 TQ7.4
FIX: Office update caused buttons not to work properly.
Reduced number of buttons. Printing is now done by creating pdf first, then print. Create PDF is only available on the Options and Report sheets.
April 14, 2016 TLC7.4
German language option added
Block 5 improvement for slow brain recommendations
Reversals page with graphic demonstration of left/right and front/back reversals.
Adjusted thresholds for brain speed evaluations to remove inconsistencies
Summary Report Options: Color selection now uses % instead of 8bit values
Amplitude page visible again
FIX: Brain speeds for quadrants were not reported consistently
FIX: Minor errors in Summary Report
FIX: Comboboxes showed huge font at times
FIX: Error message when selecting Q-wiz before running autoplan
Known issue: If plan is created and language is changed, any manual overrides (custom entries) to the plan are not shown in the translation. Please select the language before making training plan while we work out this issue for the next release.
March 5, 2016
FIX: Runtime error during saving on some systems
February 23, 2016
Refined Block 5 protocol selection for slow brains
Client name is now on both Executive Summary Report and Whole-Brain Training Plan
Default color is black bold for findings text
Updated translations for some text
FIX: Maps page was not displayed by default.
January 23, 2016
Fix: A redundant prompt to save file was removed for convenience
January 19, 2016
Fix: Executive Summary was not printing in Word for some versions of Excel.
New version: TLC7.3 January 4, 2016
Fix: Compatibility up to Windows 10 and Office 16
Improved protocol selections, including Client report issues
Client Report is now separate from the TLC7ap and can be filled out at any time. It imports automatically with assessment recording files and can be edited and imported again if needed.
August 14, 2015
Fix: Saving file sometimes caused an error.
August 14, 2015
Fix: Saving file sometimes caused data to be lost.
August 13, 2015
Fix: Infiniti users did not have Summary Report or Save As button
More complete instructions for Portuguese language installation
TLC7 Complete Guide in Italian
August 10, 2015
There are several key benefits to the new TLC7.2
1. It's multi-lingual, so if you happen to work in Spanish, Portuguese or Italian (instead of English), you can select to have your entire assessment, training plan and summary report in those languages by clicking a button.
2. It includes a sophisticated customized executive summary report which identifies patterns found in the client's brain and suggesting symptoms that may be correlated with those patterns. This can be saved off as a pdf file and sent to referral sources, shared with family members or clients themselves who want to know "what did the assessment show?" Some of you may also want to review it before you review the training plan to see if you want to make changes in that.
3. To protect the file (there's a LOT of work and proprietary information in it), it will be installed directly onto ONE computer. You'll be able to move it later if you need to (hard-drive crash, new computer, reformatting, etc.), and any updates will happen without having to go back through the installation process.
I strongly advise you to pick up a cloud-based back-up system like Drop-Box. Save your assessment files into that (or have it automatically back them up from your My Documents folder. Then, if you have multiple computers on which you record assessments, you'll be able to go to the one that has the TLC7.2 and download the files directly from dropbox without having to put them on a pendrive or email them to yourself. Save your assessments/plans there as well, and you'll be able to access them from any computer anywhere in the world. Never have to worry about losing them.
There is another update in the works, scheduled for release in mid-September, which will improve the protocol selections on the auto training plan (using the summary report). Version 7.3 should be the full complete version for at least a while, and you'll be informed of it via your email address and be able to download and update without any need for further involvement on our part.