If you have purchased BioPLAY games, BioExplorer manual, Itallis design packs, you should have received an email with links to your product(s). Download them before the links expire.
1) Download Itallis products. BioPLAY games or other Itallis products will be delivered via a separate email with links in it. This email comes directly from Itallis. Download your products immediately when you receive the email before links expire.
Example email: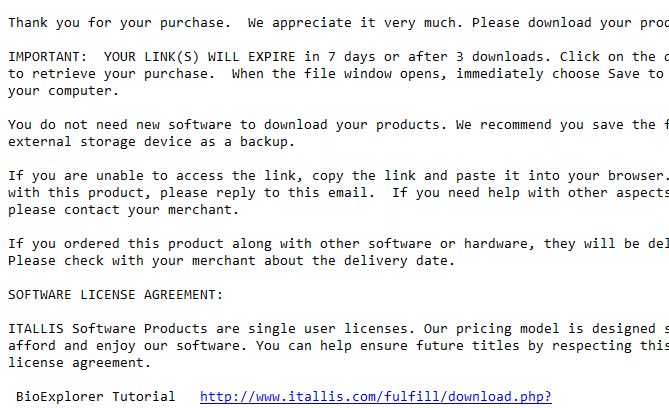 2) Extract files. Click then right-click the file and select Extract all.
BioPLAY Games
If you have purchased BioPLAY games, once you have downloaded and extracted the BioPLAY games you will want to place them in your BioExplorerFlash folder for easy loading.
Move the games to a permanent location. Copy the files. Paste them into the BioExplorer Flash folder:  C:Program Files (x86)BioExplorerFlash. If this folder does not exist, use DocumentsBioExplorerFlash.
Load a Flash Game
1) Launch BioExplorer.
2) Open a design. Select a design that has been programmed to play BioPLAY games
3) Open Flash Player Properties. Right-click on flash player and select Properties.
4) Select a Game. Click the button with elipsis and select a game from the Flash folder.
How to use BioPLAY Games
BioExplorer Tutorial Setup
1) Open the folder BEManual with the extracted files. This is probably DownloadsBEManual.
2) Create a shortcut to the Lesson Key.  This will give you easy access to the entire tutorial/manual.