Download and Install Brain-Trainer software
The first step toward using your Brain-Trainer software is the software installation. This means you must have one or more software setup installer files on your computer that you will run. In order to run the setup file it must be saved on your computer.
The main setup file is the minimum required to run Brain-Trainer for BioEra software, but you may also have purchased additional modules for HEG/LIFE 2.0, Shadow or Games. If your purchase includes the full installation with all modules, you will have 4 setup installers in total. When additional modules are purchased, they may not be visible in your list of downloadable files immediately. When your order is processed the installers will be added to your downloads and you can then download them.
Open your software
Double-click the Brain-Trainer for BioEra shortcut found on your desktop to open your software.
Check for new updates and update your software to the current version. (See next section.)
Device Connection
Software Features
This is the main screen of the Brain-Trainer software: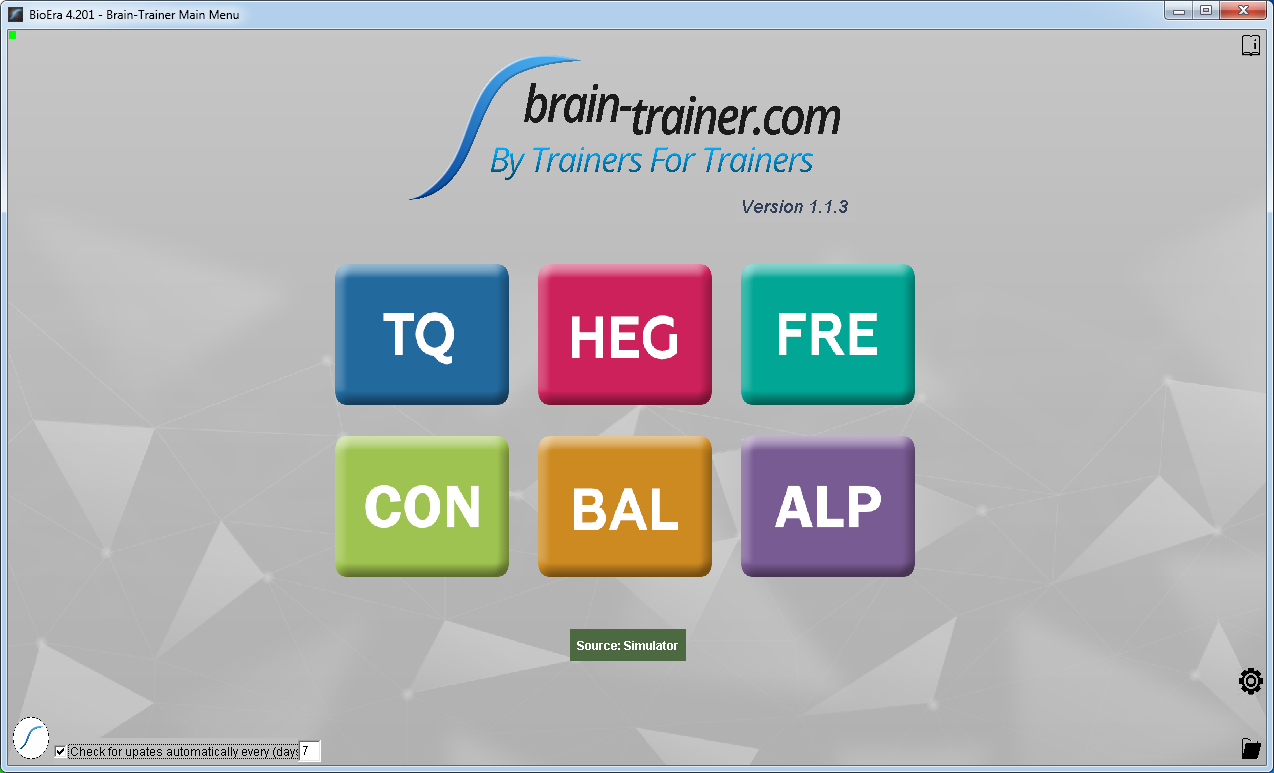 The colorful buttons in the center are buttons to select protocols – "designs" – for training or assessment. Clicking any of them will open a sub-menu from which to choose the type of training you want to do. The protocols are categorized into the following types: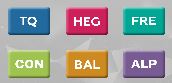 TQ – Trainer's Q assessment
HEG – Hemoencephalography blood perfusion training
FRE – Frequency band training
CON – Connectivity training
BAL – Balance training
ALP – Alpha training
More information on protocols is found in the Design Options section.


Status checker (top left) indicates whether the program is turned on or off. When it is green, the program is receiving a signal from the device.
When red, the program is stopped. Click to select an action.
"Refresh design" refreshes all the elements in the screen and gets the design back to the working mode. It can be used anytime you make a change that is not automatically detected by the system.
"Reload design" closes and reopens the design. It can be useful if you have a frozen screen and the refresh does not solve the issue. It should be used also after making changes in the device setup if the device does not connect (green Source color).

This "information" icon links to this online instruction manual.
Click to open.

The update checker checks for new updates and prompts the user to update now.
You can set automatic updates as often as you prefer.

The "Source" colored box in the bottom center indicates which device is currently being used, as well as its status. A green light means the system is receiving data from the device. A red light means there's no data being sent from the device and may indicate an issue with the device connection and/or setup.
This also opens the Device menu. Here you can set up your devices and select device settings. If it is the first time you run the Brain-Trainer software, the device is set to "Simulator".

Session saving configuration allows the user to choose an alternative location to save client files rather than the default "session" folder.
This is done from the Main Screen.

Protocol loader allows you to load a pre-saved protocol for a specific client.
See Saving protocols and Loading saved protocols.
Designs have additional icons.

Designs menu allows you to select a protocol for training.
This appears the same as on the Main menu of the program.

Protocol saver allows you to save a pre-configured protocol for a specific client and even create all protocols for the entire Whole-Brain Training Plan to send as a folder for a client. See Saving protocols and Loading saved protocols.

Signal tester shows the raw EEG and histogram to check for signal quality.
Click and drag corner to resize window.

Feedback manager opens window to customize feedback settings.
(playlist, volume, brightness, etc.)


Sound configuration opens settings for changing feedback sounds.
Select MIDI sounds or click sound.

Midi sound control turns MIDI feedback tones off or on.
Click to turn off or back on.
Design Features