Software Features
This is the main screen of the Brain-Trainer software: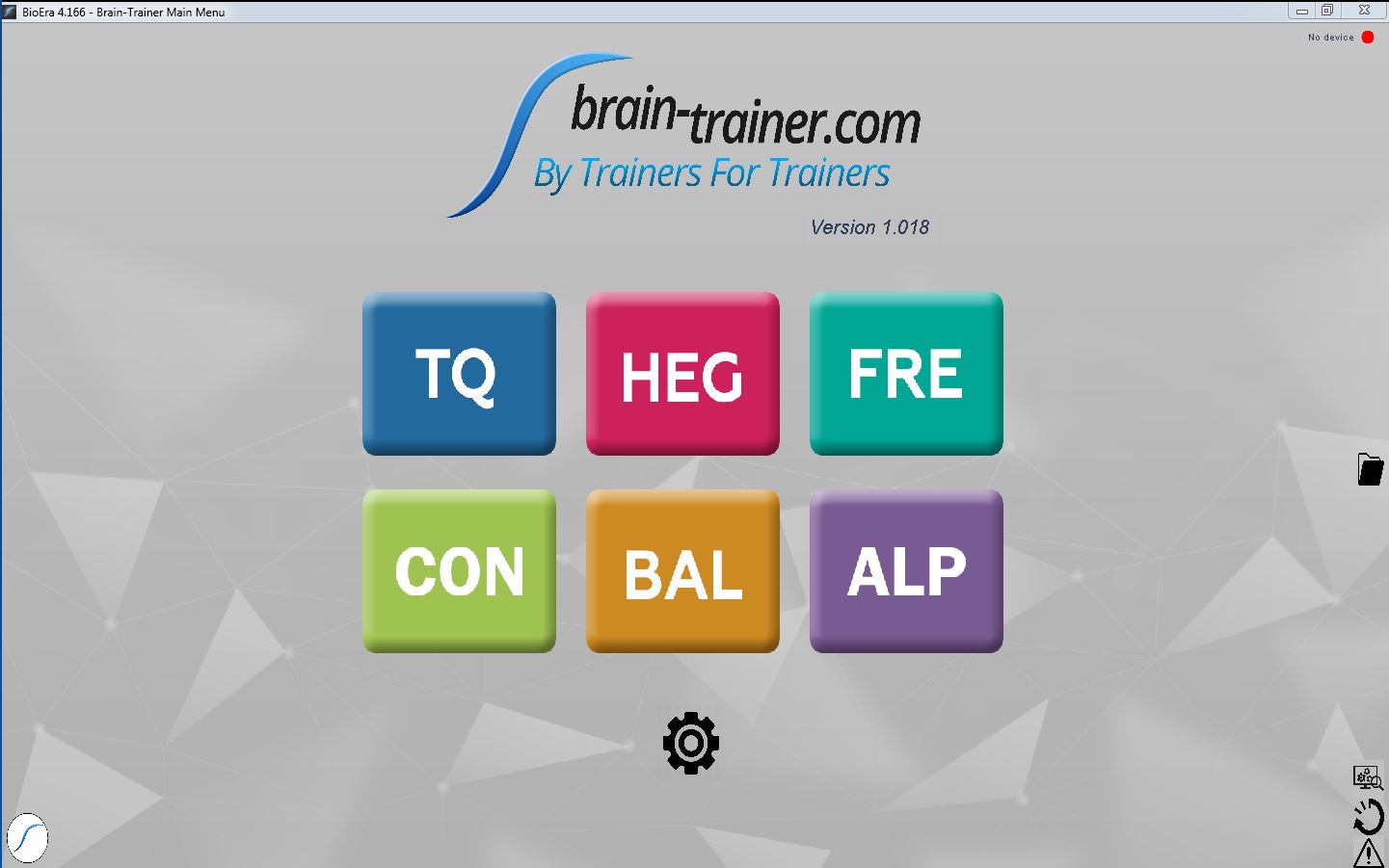 The colored lamp in the top-right corner indicates which device is currently being used, as well as its status. A green light means the system is receiving data from the device. A red light means there's no data being sent from the device and may indicate an issue with the device connection and/or setup.
If it's the first time you run the Brain-Trainer software, the device is set to "Simulator".



Protocol loader allows you to load a pre-saved protocol for a specific client and even create all protocols for the Whole-Brain Training Plan to send as a folder for a client. See Saving protocols and Loading saved protocols.

In the right-bottom corner, there are three very useful buttons that can be used when something doesn't work as expected.

The "panic button" refreshes all the elements in the screen and gets the design back to the working mode. It can be used anytime you make a change that is not automatically detected by the system.

The "reload button" closes and reopens the design. It can be useful if you have a frozen screen and the panic button doesn't solve the issue. It should be used also when you make any changes in the device setup.

The "diagnostics button"creates a diagnostic file for troubleshooting the software. Open any design and click the top button in the right-bottom corner. Then send Brain-Trainer the diagnostic.zip file that is created in C:/Brain-Trainer for BioEra.
The gear icon at the bottom center opens the Device menu. Here you can set up your devices and select device settings. After changing

to a new device, you must click the button "Click here to reload".
Device Connection
Design Options
Design Features

This manual is under construction. If you have any issues, send an e-mail to bt4be
Copyright © 2020, Brain-Trainer International, Inc.