Current version
Version 1.018 See changelog
Brain-Trainer for BioEra is a complete neurofeedback system that includes the powerful assessment of TQ and some of the most versatile and user-friendly training designs in the world. The whole structure of the program is made "by trainers for trainers". With the Brain-Trainer software, you can use many different types of feedback: video files, games, MIDI music, brightness. And there's much more coming soon as the software gets improved and updated.
Enroll in our free Brain-Trainer U course on Brain-Trainer for BioEra Software.
Disclaimer:
The Brain-Trainer software is intended for psychological training education and scientific research and should not be used as a medical technology.The Brain-Trainer software is still in development and being constantly improved. Some issues may arise as you use it and we expect to have all of them fixed in the next updates. If you have any problem with the Brain-Trainer software, please report it by sending an e-mail to bt4be@brain-trainer.com
Download and Install Brain-Trainer software
The first step toward using your Brain-Trainer software is the software installation. This means you must have one or more software setup installer files on your computer that you will run. In order to run the setup file it must be saved on your computer.
The main setup file is the minimum required to run Brain-Trainer for BioEra software, but you may also have purchased additional modules for HEG/LIFE 2.0, Shadow or Games. If your purchase includes the full installation with all modules, you will have 4 setup installers in total.
Download
Save downloads to your computer. The obvious location is your computer's Downloads folder. You can then open the Downloads folder to find any files you have downloaded.
You can download from your Brain-Trainer account > Downloads if you made your purchase in the Brain-Trainer shop.
These will download as .zip files.
Open your Downloads folder and "unzip" (extract) the files.
Right-click on the file and select Extract all. You will see the files in the unzipped folder.
If you did not purchase from the Brain-Trainer shop, download your setup file(s) from the link provided to you. The file may not be in a zip format, so no extraction is necessary.
Once the file is saved to your computer and extracted if needed, it is ready to be run.
Install
Before installing your software, check whether there is already a version on your computer. If have installed version 1.011 or older, please uninstall that version before proceeding.
If you are using version 1.012 or newer, you can now run the .exe installer(s). The process takes about 5 minutes. Double-click to install.
If there is a problem with the connection timing out before the installation process is complete, we suggest that you start the installer again, but select only one option at a time (e.g. designs). After that runs, select only the next option, etc. until all components are installed. In some cases, slow internet connection may require that the user go to a location with faster internet connection to complete the installation process.
Update

Brain-Trainer for BioEra software will automatically update every 7 days. The Brain-Trainer icon at the bottom left opens the Updater to manually check for updates to the software. We recommend you not skip updates.
Updating without a device
Without a device connected, you will be unable to interact with the software interface to update the software version. If you don't have your device with you, run bioera.exe from the program folder and change the device to Simulator to allow a version update.
Software Features
This is the main screen of the Brain-Trainer software: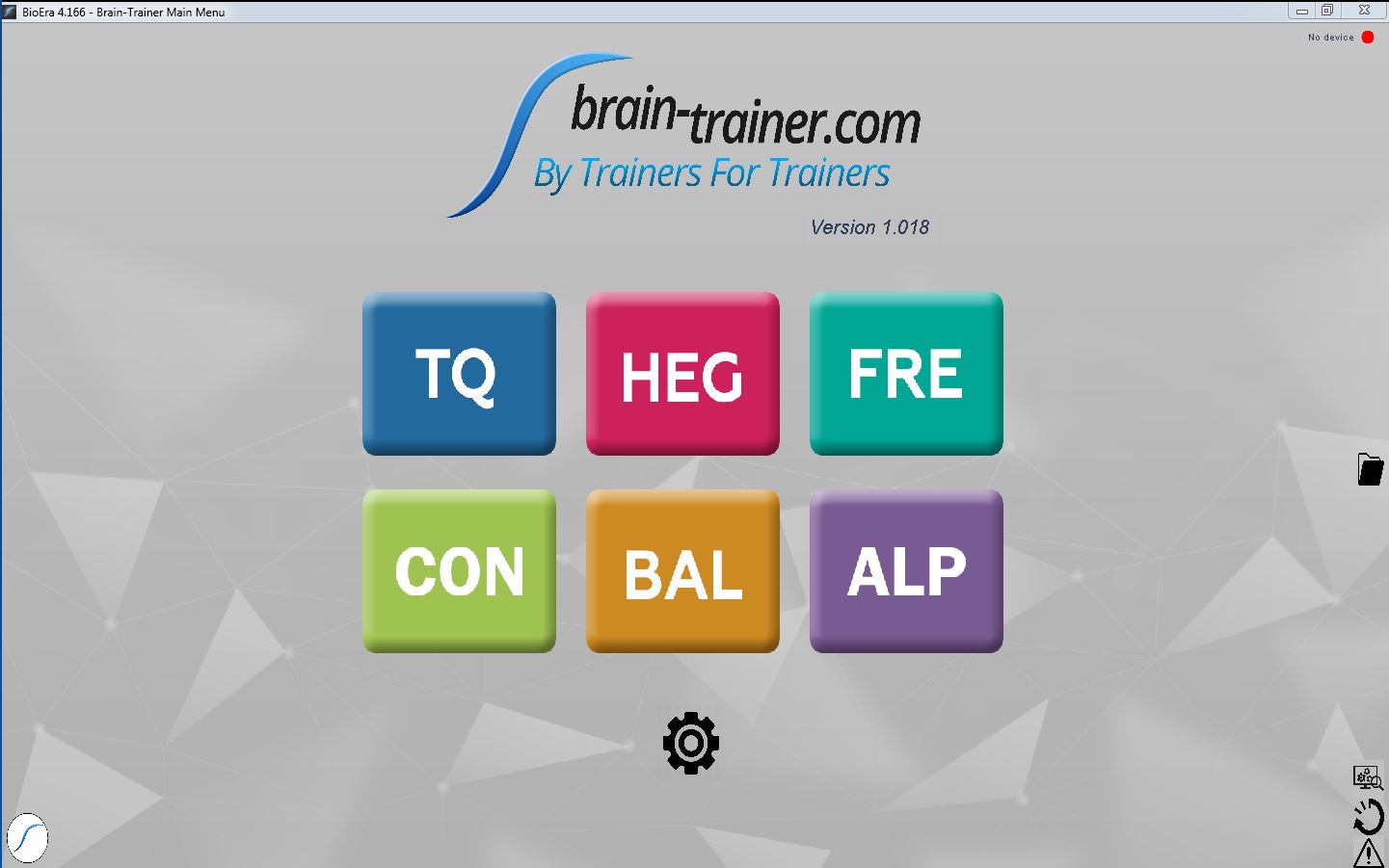 The colored lamp in the top-right corner indicates which device is currently being used, as well as its status. A green light means the system is receiving data from the device. A red light means there's no data being sent from the device and may indicate an issue with the device connection and/or setup.
If it's the first time you run the Brain-Trainer software, the device is set to "Simulator".



Protocol loader allows you to load a pre-saved protocol for a specific client and even create all protocols for the Whole-Brain Training Plan to send as a folder for a client. See Saving protocols and Loading saved protocols.

In the right-bottom corner, there are three very useful buttons that can be used when something doesn't work as expected.

The "panic button" refreshes all the elements in the screen and gets the design back to the working mode. It can be used anytime you make a change that is not automatically detected by the system.

The "reload button" closes and reopens the design. It can be useful if you have a frozen screen and the panic button doesn't solve the issue. It should be used also when you make any changes in the device setup.

The "diagnostics button"creates a diagnostic file for troubleshooting the software. Open any design and click the top button in the right-bottom corner. Then send Brain-Trainer the diagnostic.zip file that is created in C:/Brain-Trainer for BioEra.
The gear icon at the bottom center opens the Device menu. Here you can set up your devices and select device settings. After changing

to a new device, you must click the button "Click here to reload".
Device Connection
Design Options
TQ – TQ Trainer's Q assessment
Gather data for creating a Whole-Brain Training Plan. Select 2 channels or 4 channels according to your amplifier.
TQ 4C no-artifacts
"No-artifacts (tests version)" is under development. Its purpose is to collect data while excluding data with artifact. We recommend this for testing only as its correlation with the TQ7 artifacting has not been confirmed.
HEG – Hemoencephalography
Increases blood perfusion to the prefrontal area of the brain for attention, impulse control, mood stability. Trains both "closed focus" (increase training) and "open focus" (decrease training).
General HEG:
Select up (increase), down (decrease), both or free mode (either as desired).
LIFE Game for HEG
Beautiful graphics in game format to display the brain's activity as it trains in both directions for closed focus and open focus.
FRE – Frequency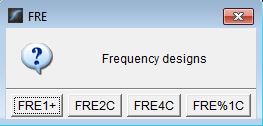 FRE1+: 1 channel, 2 channels summed, 4 channels summed. Signals are summed before going forward to filters, thresholds, etc. For your convenience, a button is available for 2-channel summed (Centering) settings under Design setup.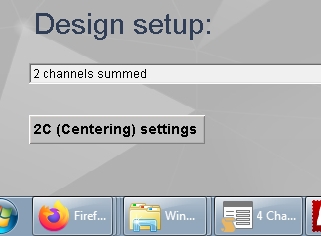 FRE2C: 2 channels with individual signals (not summed). Preset protocols are available on this design for Beta/SMR, Dual Bipolar and Dual Bipolar (Calming) under Design setup.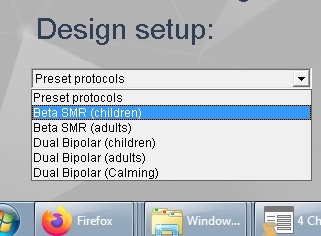 FRE4C: 4 channels with individual signals (not summed). For your convenience, a button is available for RH Bipolar protocol settings to auto-load.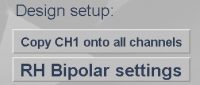 FRE%1C: Used for % / ratio training, typically SMR%. Use sliders to select frequencies between 0.1 and 20 Hz. Use sliders control arrows to increase or decrease by 0.1 Hz.

CON – Connectivity

Multiband Coherence: Train multiple bands up or down simultaneously. High frequency coherence is trained down; low frequency coherence is trained up. Reverse (Rocking) button allows training the opposite direction. A collection of multi-voice songs is available. Each voice is enabled according to a target being met.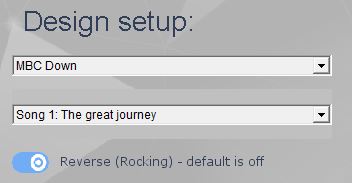 Sync: Trains synchrony in 1, 2 or 3 bands simultaneously in 2 channels.
Multivariate Coherence (test version): Special protocol for frequency + coherence training based on Rob Coben's Four Channel Multivariate Coherence Training: Development and Evidence in Support of a New Form of Neurofeedback. The MVC design is specifically to be used for those who are "difficult" or "stuck" clients and decisions are to be made based on the QEEG. It is still somewhat experimental and we are still learning about it ourselves. Here is an interesting video: https://www.youtube.com/watch?v=FaFkhAfasXI
It is often used for clients with autism on the right hemisphere. The TQ7 does not measure coherence within the same hemisphere so some guessing would be needed. What shows up in the frontal lobes may also be similar to the right hemisphere. A common set of placements could be F6 T4 T6 P4 C(A2) choosing the similar coherence and frequency choices as you would choose for the frontals.
BAL – Balance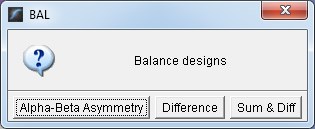 Alpha-Beta Asymmetry: Balances alpha and beta between left and right or front and back site pairs. Select alpha and beta, alpha only or beta only in Design setup.
Difference: Decreases the difference between two bands in 1, 2 or 4 channels.
Sum & Diff: Decreases both the sum of two bands and the difference of two bands between different sites .
ALP – Alpha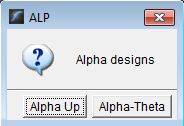 Alpha Up: Increases percentage of alpha over entire EEG, 10 Hz alpha over entire alpha band and decreases non-alpha frequencies. Select range for dominant frequency: 8-12 Hz (default) or 6-12 Hz.
Alpha-Theta: Deep states / Peak performance protocol.
Design Features
Design settings
Activate channels, select frequency bands and feedback type, select special protocol settings, set session timer. Any variables set in a design will be present the next time the design is loaded, including feedback type and client selected.
Client folder

A client folder can be created from the design by using the "Add client" icon. Session recordings such as Assessment files are saved to this folder.
Saving protocols

You can select settings for a client according to his/her training plan and save the protocol to the client's folder. This allows you to save an entire set of protocols for the Whole-Brain Training Plan that can be sent to a client for training. Specific blocks can be indicated.
Loading saved protocols

The "Load protocol" folder icon in the top right of the design will allow you to select protocols with their settings that you have saved. Select client, block and protocol.
Thresholds
Advanced users only:  Threshold properties can be changed when the design is not running. The following settings may be edited:
Success rate for auto targets
Epoch length
Display range
Session Timer
The session can be stopped at any time during training using the stop button. Alternatively, the session time can be set using the session timer. Click the session timer icon and a slider will be visible. Click and drag the slider to set the number of minutes the session should last. A chime will sound when the session ends.

Device Settings
Settings for your amplifier can be accessed by clicking on the amplifier name.

Signal Tester
Signal quality can be checked using the Signal Tester. Open the Signal Tester window by clicking the brain wave icon. The Signal Tester window can be sized larger by clicking and dragging the corner of the window.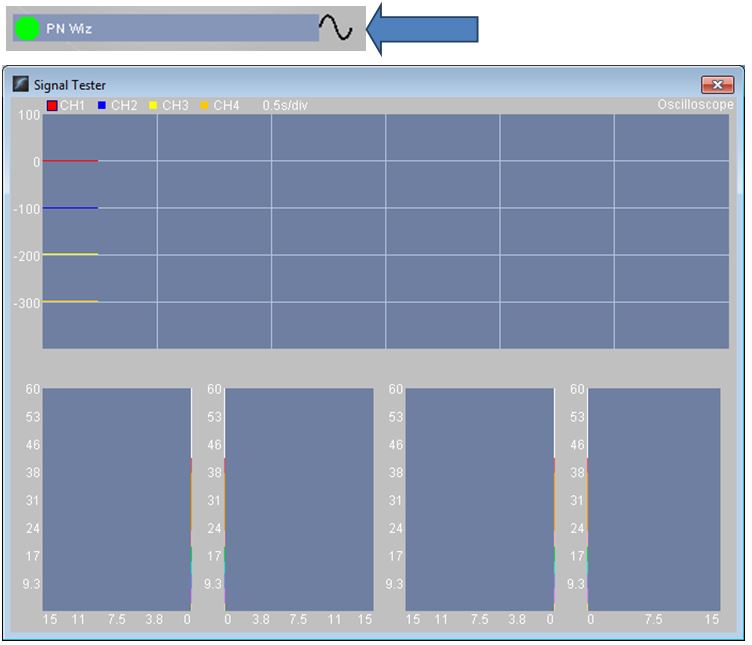 MIDI Tones Control
The MIDI sounds can be muted if desired by clicking the speaker icon.

Feedback Options
Click contingent audio feedback
Brain-Trainer designs generally have default "click" sound feedback  that can will be on in addition to visual feedback. The click sound can be heard when the training targets are all met for 1 second.
MIDI continuous audio feedback
Brain-Trainer designs generally have default "MIDI" sound feedback  that can be used alone or in addition to visual feedback.
The MIDI sounds are modified by the thresholds only to a certain extent. The main purpose of the MIDI is to work as a continuous feedback to the brain. The idea of the continuous feedback is to function as a mirror that reflects everything the brain is doing. It focuses not on whether the amplitude has or hasn't crossed the threshold, but on how much it was high or low in comparison with the target. This way, you should not expect to be able to get a yes or no response from the sounds.
There are some studies from the 90s that suggest that continuous feedback may produce a better response from the brain than contingent feedback. Brain-Trainer pioneered the use of the continuous MIDI in the late 90s. The aim of the continuous MIDI is to communicate directly with the brain and turn off any attempt of the conscious mind to figure out how the feedback is working. It works especially well for people who have a tendency to be always trying to control things. Not understanding consciously why the music is playing the way it's playing makes the controlling mind simply let go and then the brain can respond directly to the feedback without any interference.
HEG options and Shadow feedback
Shadow feedback
Start the data stream before starting the shadow.
Select design settings
First set controls for the design (play or record, client, design setup, etc.). You may select Shadow as feedback type and open the shadow panel to select settings but do not start the shadow until the data stream is flowing.
Select shadow settings
Use the light/dark icon to open the shadow panel. In the shadow panel under "Source" you may select to have the shadow range based on the number of targets met (brighter as each additional target is met) or continuous ratios. Select the one that best suits the design and training that you are doing at the moment.
Start the session
When the client is ready to begin, start the session using the Play/Capture button.
Start the shadow
Once the data stream is started click the "Start shadow" button. The shadow window should appear. Now you can resize it or maximize it to full screen.
Fix shadow to start feedback
Tick "Fix shadow" to start the shadow feedback. If you are using only a single monitor for training, instead of the "Fix shadow", click the clock icon. That will give you 5 seconds to place and resize the shadow, after which it will become fixed. Otherwise, if not fixed, the feedback will not begin and you will not be able to select anything behind the shadow.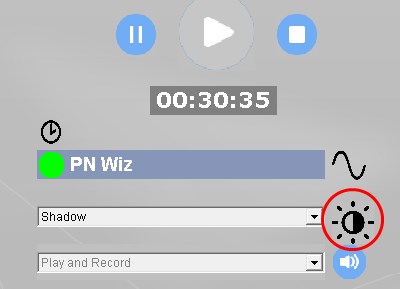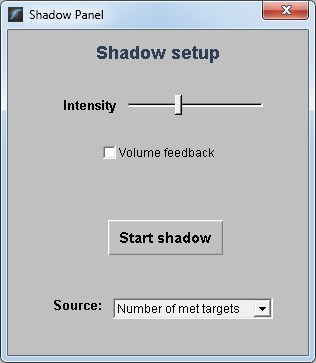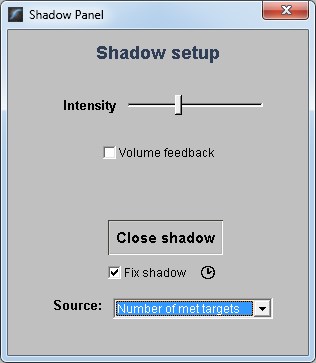 For feedback control of volume, tick the Volume box. Use the "Min volume" slider to change the amount of change heard (left is more change; right is less change).
To adjust the general volume of the Brain-Trainer feedback and not the computer's other sounds, use your computer's Volume mixer. To open the Volume mixer, RIGHT-click on the speaker icon at the bottom right of your screen. Move the slider for BioEra.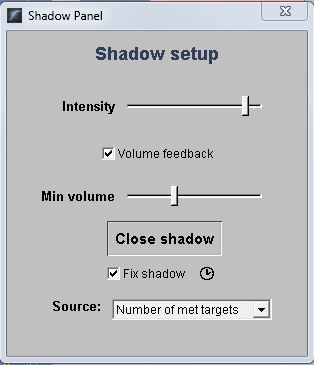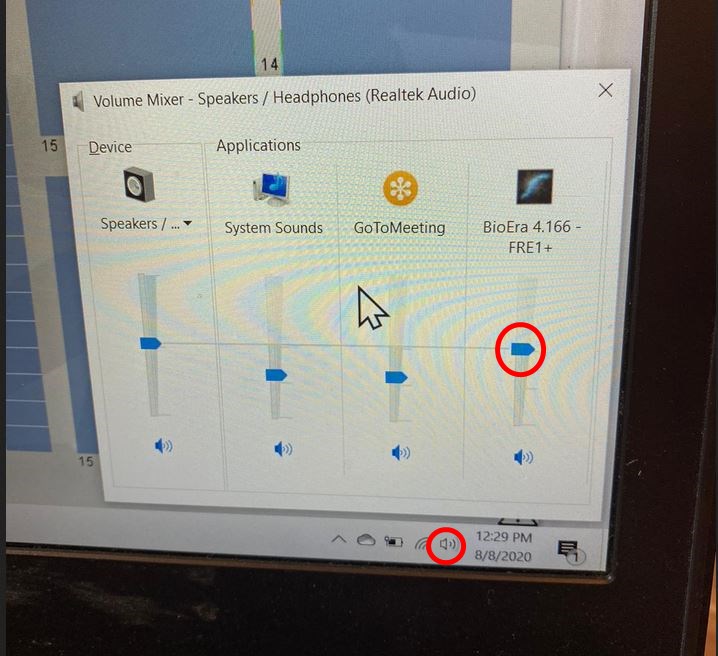 When the design stops, you may find the shadow is no longer fixed/active. If the shadow is in the way of your controls, close it by hovering your cursor over the Shadow window in the task bar and clicking the X.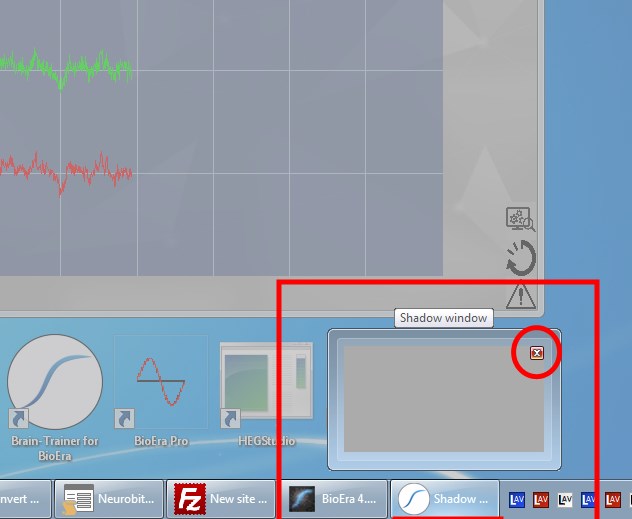 Video player feedback
Make changes to the video playlist before starting the data stream.
Select Simple Video Player if the standard player does not work properly.

Click the Video panel icon to open the Video panel. When you make any changes in this panel, DO NOT CLICK APPLY. This will reset the player to the default list of videos.

Make changes to the playlist by clicking "Edit playlist". Select a video by ticking the box at the left. Use the up or down arrows to change the order. Click the X button to remove a video from the list. Use the + button to add a video. You can add any video on your computer.
To adjust volume of a music video in the standard video player, use the Video volume slider in the Video Panel.
For feedback control of a music video's volume, tick the Volume box. Use the "Min volume" slider to change the amount of change heard (left is more change; right is less change).
To turn off MIDI sounds of the design while playing a music video, use the design's speaker icon.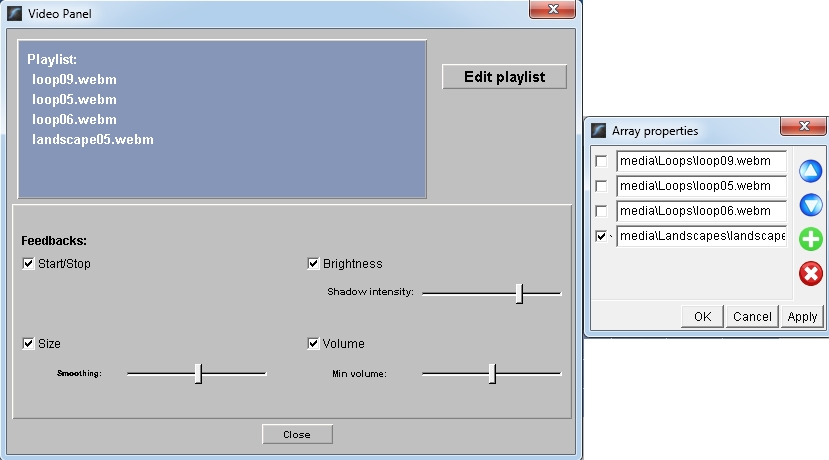 If you have issues playing videos, we recommend downloading and installing K-Lite Codec Pack. Basic is fine. "Server 1" is usually enough. Use default settings when installing. This should allow you to play any video format in Brain-Trainer software.
Videos of file type WEBM play best. If you want to play your own videos as feedback, you can convert them to WEBM format. Convert the video(s) and save to your computer in C:\Brain-Trainer for BioEra\Media. Then they can be loaded into the video playlist.
Here is a free online video converter: https://www.video2edit.com/convert-to-webm.
Here is a free downloadable converter that converts large files:  https://www.any-video-converter.com/products/for_video_free/.
Games Feedback
The games panel has the option to load your own flash game that is compatible with Brain-Trainer such as other BioPLAY games that are not included with Brain-Trainer software. Required inputs for such games are:
Input 1: On/Off (boolean)
Input 2: On/Off (boolean)
Input 3: Variable (percentage)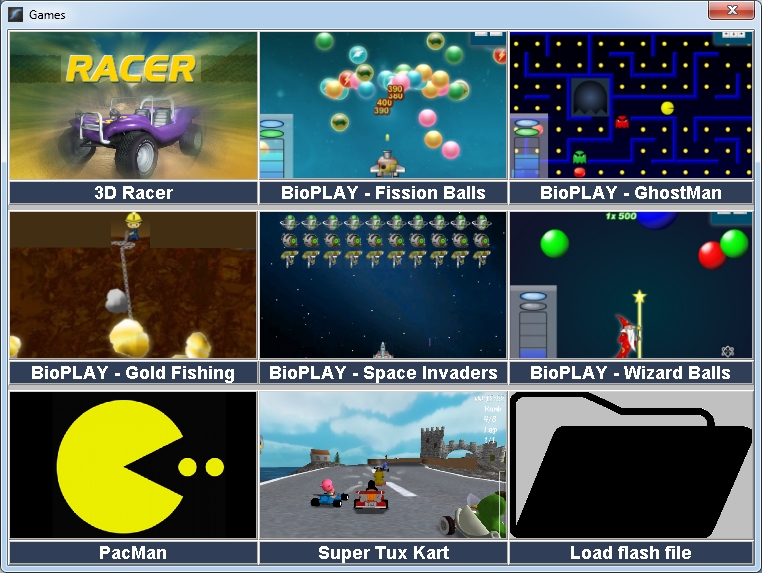 Super Tux Kart game
Running BioEra Pro
A full version of BioEra Pro is installed with your Brain-Trainer software. Most trainers will use only the Brain-Trainer interface and designs. For advanced trainers with knowledge of programming designs themselves, BioEra Pro can be run on its own. To run BioEra Pro, open C:\Brain-Trainer for BioEra. Find the file bioera.exe (application) and double-click. Bioera.exe gives access to the full function of BioEra. You may see a window asking for a password. Click cancel. Then a message is shown that it is in "run only" mode. This only refers to the specific design. It is possible to create a new design or load a design from the computer.
Troubleshooting
Device selection
Ganglion- when selected but not connected, Device setup is not available
Workaround:
– Go to the folder C:/Brain-Trainer for BioEra
– Run bioera.exe
– It will open Brain-Trainer for BioEra along with the programming window (signal diagram)
– In this window, go to Tools –> Device selection and configuration. Then you will be able to select another device.
HEG
When selecting HEG device in design program crashes
HEG module may not be installed properly. Install HEG module from C:\Brain-Trainer\ins
HEG design not working properly
HEG module may not be installed properly. Install HEG module from C:\Brain-Trainer\ins
HEG design screen flashing
The flashing is opening and closing. HEG module may not be installed properly. Install HEG module from C:\Brain-Trainer\ins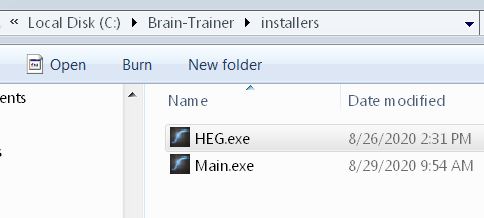 Videos
If you have issues playing videos, we recommend downloading and installing K-Lite Codec Pack. Basic is fine. "Server 1" is usually enough. This should allow you to play any video format in Brain-Trainer software.
Video player grey with no video displayed
If K-Lite is installed and you still see no video displayed in the video window using Simple Video Player, try this workaround:
Open simple video player.
Edit play list.
Click "Reload" button at bottom right of design.
Now start session.
General issues or bugs
Open Brain-Trainer through C:\Brain-Trainer for BioEra\start_debugger.bat. Perform the steps that created the issue and copy the text in the console window. Send to bt4be for analysis.

This manual is under construction. If you have any issues, send an e-mail to bt4be
Copyright © 2020, Brain-Trainer International, Inc.